My parent's driveway. I know, amazing!
It would be pretty difficult to be a faith-inspired online writer and not know of Ann Voskamp at A Holy Experience. She is an ordinary lady who loves God wholeheartedly and allows us to travel with her on this crazy journey of following after Him.
This morning her blog post reminded me of something I wrote while my mother was living her last days. The theme being that our inner happiness can be triggered by an outside action or reminder. Ann's example was a sign on the side of the road that said "Honk if you are happy". (Go read her post, it is delightful!) The following is a re-post of my story......
The man scared me the first time I saw him there on the side of the road. It was a curvy mountain road without sidewalks. We were staying with my parents for a few days and the winding mountain road had trees lining it as the forest tried to reclaim its territory.
Each time we left my parent's home on an errand or to get some dinner out, there he was, on the very edge of the road with thick trees behind him and black asphalt in front of him.
An old man, he smiled and waved as we went passed him. That first time I assumed he must be a friend of my Dad's. He waved with expectation of a return wave and really seemed happy to see us. I smiled and waved back.
But then again the next day and the next, he was standing there. Now I noticed that he wore an orange road-workers type vest with reflective strips on it. But he was not working. He was standing and waving and smiling.
My Dad did not know him by name. Just said that he was always there, waving at passers by.
I wondered about the waving man. Was he unbalanced in mind? Did his family know what he was doing or are they the ones who got him the protective vest to wear, knowing he was determined to be out there anyway?
Then I began to realize that I was looking for him and a smile was ready each time we went by, whether he was there or not. This strange stranger was making me smile even during this tough visit to be with my Dad while my mom was in the hospital, living her last days.
Maybe the old man saw this as a kind of job, like a greeter at walmart. He probably enjoyed the different reactions he got from the passing cars. Was he doing it for himself or for others? I wonder if he knew that he was making me smile after a morning of tears.
It takes so little to lift another's spirit.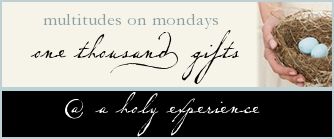 Pin It
Like this? Don't forget to
SHARE...